I was one of those that freaked out the moment I saw that Kylie will release her very own bronze palette soon. Who wouldn't? It was very much hyped that I was worried I might not be able to get my hands on it so soon after the release but thanks to the ever wonderful @roxane.ph, here I am with the palette in my hands.
KYLIE AND HER BRONZE
Contains: 1 Kyshadow pressed powder eye shadow palette (net weight / pods net 9 X 1.40 grams / 9 X 0.05 oz) 


The #KylieCosmetics Kyshadow pressed powder eye shadow palette is your secret weapon to create the perfect Kylie eye. Each Kyshadow Kit comes with 9 pressed powder eye shadows that can be used together to recreate Kylie's favorite looks or customize your own.  
Each Bronze Palette contains the following shades:
Jasper (matte finish creamy beige), Quartz (satin finish champagne gold), Topaz (matte finish true taupe), Goldstone (satin finish bronze), Citrine (matte finish bright orange), Tiger Eye (matte finish light golden brown), Hematite (matte finish chestnut brown), Bronze (matte finish chocolate brown), Onyx (matte finish black). 
The Kyshadow kit pressed powder eye shadows are talc and paraben free, have medium buildable coverage and a velvety smooth texture.
The Review:
The Kyshadow Bronze Palette has 9 eyeshadows in matte and satin finishes running in neutrals. It comes in a white palette with the names of each shade found at the back. Each eyeshadow pan contains about 1.40g/0.05oz of product with a total of 12.6g/0.45oz. It also comes with this cute note from Kylie on the back of which is a hologram of a winking eye.
So cute eh?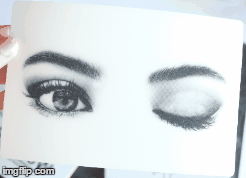 Made via imgflip
The eyeshadows are soft, finely-milled and somewhat powdery but not chalky nor dry when applied on the skin. All the shades are pigmented to boot and blended very easily and smoothly. There was some fallout whenever I dip my brushes on top, with Citrine having more excess powder kicked off than the others.
I've used this palette several times the past few weeks and I've only used a primer once just so I can compare on how they will perform with and without it. I can confidently say now that I am never going to wear them with any base underneath because it doesn't need one. Trust me, I've gone longer than 12 hours, sans any primer, with these eyeshadows and it's quite amazing not to see any creasing or fading on my lids by the time I take them off before going to bed.
If you're looking for a neutral palette that you can use everyday, day or night, and you've got bucks to spare then I suggest you consider this as one of your choices. If you ask me, my favorite shades from this palette are Quartz, Topaz, Goldstone and Tiger Eye. They are the ones I use on most days.
And to add my two-cents in on the drama surrounding this product: I've been seeing and reading a lot of negative comments about this palette and about the owner herself in general. Yes, I too can see the resemblance to other inexpensive palettes out there in the market but frankly, I was downright impressed with the one Lip Kit I own. Or maybe I'm another makeup zombie that gets easily swayed over by her business tactics. Whatever. The point is I was impressed by her liquid lipstick that I wanted to get her palette too. That means, this palette gets a TWO THUMBS UP from me.
Were you able to get your hands on Kylie's Bronze Palette. Did you love it? Or is it highly overrated for you? Tell me your thoughts down below. By the way, have you heard the news? Kylie will release another eyeshadow palette this month. It's going to be another round of excitement for me!
Don't forget to follow me on:
BLOGLOVIN | PINTEREST | TWITTER | INSTAGRAM